Chicago native turned Arizona resident, Nikki Hayes delivers her latest single, "Stingray"
The comments run the gamut when they hear her – from the creative to the comical. "Your voice just snatched my edges!" "Why aren't you famous yet?" "If Beyoncé and Toni Braxton had a baby, she'd sound just like you!" Those are just a few of the responses Nikki Hayes receives after someone encounters "that voice." Whether it's watching her videos or attending a live performance, there's no doubt the 23-year-old R&B singer/songwriter is not your typical artist. The Chicago native turned Arizona resident is a vocal powerhouse to be reckoned with.
Not bad for someone who, as her family used to say, "couldn't hold a note in her hand."
Nikki's journey into music began at Studio One Dance
Chicago
when she was just six years old and continued while attending elementary school at St. Sabina Academy. Even then, she wanted more. "My older sisters sang with Walt Whitman and The Soul Children of
Chicago
, so of course I wanted to join too," Nikki recalled. "One problem – I couldn't sing! I was turned down three times before finally becoming a Soul Child, but I refused to give up. Every day I'd go in the basement of my house and just sing, and eventually, the vocals started coming together."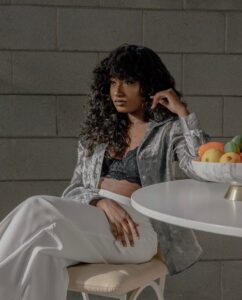 In 2010, Nikki recorded her first solo project and in 2013, she landed a final five spot in the "Who's Next? Worldwide Online Talent Search," sponsored by six-time Grammy Award-winning producer; engineer; vocal producer, and songwriter Kuk Harrell (Rihanna; Justin Bieber; Cher; Eminem; Beyoncé and others). Since then, Nikki has recorded with Grammy Award-winning artist Malik Yusef (G.O.O.D. Music); Tour keyboardist to the stars Marcus Kincy (Camila Cabello; Mary J. Blige, P. Diddy; Nick Jonas); and others. In 2018, Nikki's released Move, a mellow R&B vibe that conveys the physical fervor of love and the anxieties we may face we are drawn to someone. Move became a favorite among both fans, the music industry and the media, which includes landing the track on the CW's All American, an Independent Music Award nomination for best R&B song, and other accolades.
"Our biggest fear is not that we are inadequate, our deepest fear is that we are powerful beyond measure."
Nikki returns with a vengeance with her latest track titled Stingray. An incredibly dynamic vibe as mellow, melancholic verses build into driving choruses of empowerment, Nikki uses Stingray to share her own story of an emotionally abusive relationship and the painful journey of regaining control of her life. Her "bare it all" tale of abuse disguised as love is a warning to anyone who is caught up and confused but feel dependent on the relationship to survive. By sharing her own story, Nikki hopes to help others recognize what's known as gaslighting – a very powerful and dangerous component of emotional abuse -- and act accordingly. "While no one really wants the pain of any sort, we learn who we are during times of struggle," she said. "Yes it can be agonizing when you're in the midst of it, but it's also necessary in order to discover and embrace your power. Everyone has it; it never goes away. Sometimes we have to be reminded of it in order to regain our footing."
Nikki Hayes' love for 90's music and her propensity to share that clandestine part of her spirit, both lyrically and vocally, continue to be a part of who she is. Her musical influences are wide-ranging – from Beyoncé and Stevie Wonder to Sade and Toni Braxton, who shared Nikki's cover of her hit,
You're Making Me High
with her Twitter followers.
For additional information contact Sonya Gregory-Hayes; LNJ Entertainment; at 773-547-4017 or via email at
sonyagh@lnjentertainment.net
.